10 YEAR ANNIVERSARY OF THE LOGISTICS TREND RADAR
Interview Special
A whole decade has nearly come and gone since the publication of DHL's first Trend Radar. As the last pieces of The Logistics Trend Radar 6.0 come together, we sit down with Jordan Toy, Trend Radar Editor-in-Chief and innovation manager, to hear more about the legacy of the publication, what's next, and what goes on behind the scenes.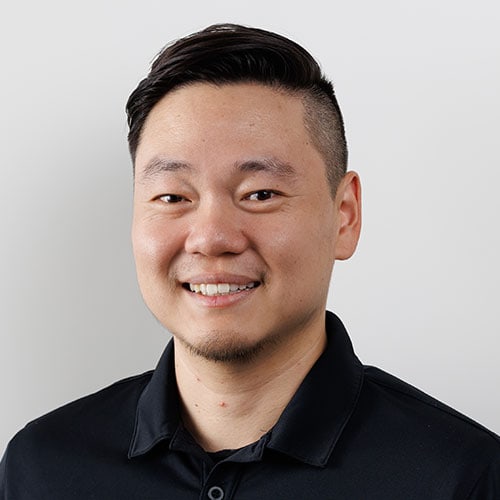 Jordan Toy
Innovation Manager
Editor-in-Chief & Co-Author
Let's go back to the start. Why did DHL decide to make The Logistics Trend Radar all those years ago?
It's interesting to see that the main reasons we published our Trend Radar ten years ago are basically the same reasons we are still doing so today. When making this new one, we decided to take a look back to the very first edition. In the intro, the authors explained that we at DHL had created the Trend Radar to stimulate collaborative discussion, so that collaborative innovation projects could be undertaken throughout our network. I'd say that speaks very much to the heart of why we made Trend Radar 6.0 and why we'll continue to make new Trend Radars in the future.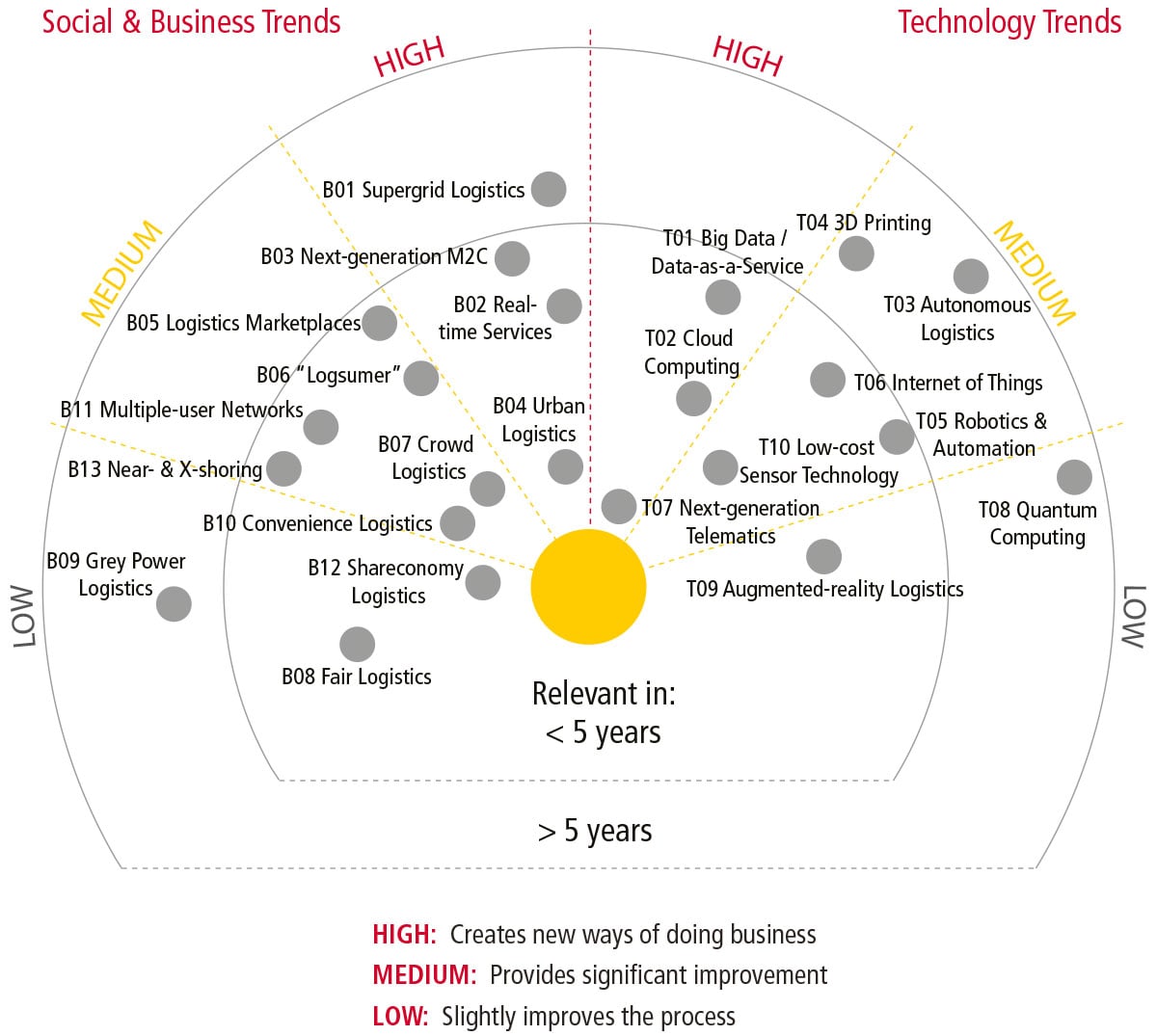 Would you say that DHL design its radars differently now than in the past?
Graphically, I think DHL has come a long way since the first Trend Radar. Unfortunately, I wasn't around at the time of the first or early editions, but knowing some of the people who did, I believe that as DHL started learning how popular its radar was with our customers and colleagues, we started being more user-centric in how we design, organize, and portray the information in every succeeding version. There's a lot of information we want to share on our Trend Radar, and we've definitely got better at organizing the information. But we are constantly reminding ourselves to be attuned to the needs of our customers in what they want to know and how to make that information easy to consume and navigate.
But how about in terms of laying out the trends on the Trend Radar? I know you said you weren't there from the beginning, but have any traditions carried through over the years?
Absolutely! In almost a literal sense, every time a new Trend Radar is being made, the innovation teams across all the Innovation Centers huddle in one room and hash it out. We bring markers, pens, whiteboards, and sticky notes and start sharing ideas of what we've read, heard, or experienced in the last two years, whether from customer representatives or innovation projects.
Wow! Sounds like quite a brainstorming session!
Yeah, and it's not just one session – we have multiple sessions and iterations, harmonizing the views across all four regional Innovation Centers and the views of our many DHL subject matter experts. We really aim to bring a global perspective to the Trend Radar and not only the typical European or American-centric perspective. As you can imagine, what they see and hear in Asia may not be the same as what they see and hear in the Americas. I guess I just want to emphasize that the Trend Radar is not just simply an academic exercise.
Oh, it isn't?
Obviously, the placements of the trends are enriched with our own research. However, overall, each trend and where it lies is the collective result of what we observe and experience every day, from hearing customer pain points in innovation workshops to talking to hundreds of tech providers to seeing hands-on what DHL colleagues with boots on the ground in our facilities experience in their day-to-day lives. These are things you can't necessarily understand just by being on a computer.
Right. I think making insightful pieces like the Trend Radar definitely requires more than just desktop research. It requires that developed intuition, too. But back to the first edition – what has since changed and what has remained the same? Besides the design, of course!
One thing you'll probably notice straight away is that the Trend Radar has kept the two halves of Social & Business trends and Technology trends throughout the years. This is important as we really want our customers and colleagues to remember that it's not just the technology landscape that is changing supply chains and logistics, but that societal demands and needs like environmental sustainability or remote working can also shape the logistics industry and disrupt current business models. In terms of changes, I think the most obvious difference is the number of trends!
This really stuck out to me. In this Trend Radar, you have, what – 40 trends this time? The first edition had only 23.
Yep – 40 exactly! And it's not necessarily that 17 new trends appeared out of nowhere. Sure, some are new trends as they developed over the years and became potentially relevant for the logistics industry, like Metaverses or Space Economy. Most, though, are primarily clarified trends – new ones made out of old ones. In doing so, we can be more specific and provide more details below the surface of a trend.
Can you give us an example?
So, if you look at the first Trend Radar, we had Robotics & Automation, as well as Internet of Things. Probably more than half of the discussions we have with customers and colleagues fall under one of these two things! In order to drive more fruitful conversations for innovation, we've split up trends like these over the following editions to bring them to the right level of depth. So, instead of having Robotics & Automation, we now have more specific trends like Indoor Mobile Robots, Stationary Robotics, and Outdoor Autonomous Vehicles. Or, if we look at the 5th edition, instead of asking all these questions to understand a customer's needs in Sustainable Logistics – which was the hottest topic last year – we can cut to the chase in Trend Radar 6.0 and dive straight into Decarbonization, Alternative Energy Solutions, Circularity, Bio-Based Materials, or other trends.
Makes sense. And speaking of all these trends, are there any that have special backstories?
You mean, are there any that have moved in a lot of directions over the years?
Yes, or any memorable moments when choosing a particular trend name? Or any that have dropped off the Trend Radar?
Where to begin? There's too many to choose from! Well, one trend, Quantum Computing, appears on the very first Trend Radar back in 2013, and if I remember correctly, remained on our radar until the fourth edition, in which it was finally removed. The reason we removed it was because the trend, in our eyes, wasn't really advancing, and it didn't seem like it would impact the logistics industry within the ten-year scope. However, in 2019 and 2020, as we were producing the fifth edition, we started seeing a lot of headlines and buzz on social media about quantum computing. IBM just released its first commercial quantum computer, and shortly after, we heard news of Google claiming to have reached quantum supremacy. Essentially, in just two or three years, we saw quantum computing jump from science labs into the commercial market, sparking the quantum 'space race' between all these technology developers.
And that is when you knew to put the trend back on the Trend Radar?
Exactly. There was no doubt in our minds at that point that the trend deserved a return. Ten years out, maybe, but a return, nonetheless. Putting Quantum Computing back onto the Trend Radar in the fifth edition actually led us to trying out the technology with one of the major players in the quantum space race. It was a really cool experiment! The technology is still nascent – it appeared we were right with the ten-year placement, but the experience informed us first-hand what the opportunities and challenges are when it comes to the trend of Quantum Computing. That's all part of the fun in predicting the future!
Wow – what a fascinating story! I imagine that with all this hard work and thought process going into the Trend Radar, and judging by the excitement you have just telling about them, I'm sure it stimulates the collaborative discussion with customers you mentioned earlier.
That's an understatement! First of all, The Logistics Trend Radar leads to further deep-dive trend reports that in turn drive even more discussions with our customers.
And what are the trend reports? Are they different to the Trend Radar?
Yes, trend reports are the in-depth publications that we produce alongside the Trend Radar that detail a specific trend on a deeper level than what we present in The Logistics Trend Radar. A trend report explores all the opportunities and challenges a trend has in logistics, and it highlights everything that a leader in supply chains should know about these complex topics, from Future of Work to Next-Generation Wireless.
Ah, I see. So, when someone finishes reading your trend report, they will feel comfortable talking about a trend.
Exactly! We don't get super technical as you might in, say, a thesis paper or a science journal, but we introduce the right level of terminology and frame ideas in terms of logistics, so that people in supply chains, who may have never heard of a trend before, can understand why they should care, as well as have some confidence in talking about the subject.
Got it. Seems like DHL has a nice knowledge library for these trends.
Yeah, we do. To help drive innovation in supply chains, we actually provide all these publications for free for anyone to access and read, customers and competitors alike!
That's very generous and perhaps, in ways, reflects DHL's commitment to innovation. But back to what you were saying before I interrupted – how else does The Logistics Trend Radar stimulate collaborative discussions with customers?
No worries. As I was saying, the Trend Radar drives discussion through trend reports, which has led to joint strategic or innovation roadmaps. But it also provides context and strategic direction for the hundreds of proof-of-concept projects we do here at DHL. Indoor mobile robots for various tasks and extended reality for piece picking are just a few examples where proof of concept projects have become fully-deployed solutions at DHL. Meanwhile, trends involving sensors, blockchain, and big data have resulted in DHL offering its own IoT platform and blockchain and data analytics services to our customers today. The list really goes on and on. The Logistics Trend Radar is quite literally our guide for DHL's innovation activities.
And how about your colleagues? How do people in DHL use the Trend Radar?
Well, it always excites us to hear news that a group in the big DHL family is using our Trend Radar. Not that we don't expect it, but because we are constantly amazed by its reach. Just this year, we learned that Corporate Security and Patent Management use the Radar to drive strategy and have seen the Trend Radar in their slide decks. And it always brings a smile to our faces when we visit a warehouse in another country and see the Trend Radar poster hanging on the wall.
I'm sure it's like an Easter egg hunt sometimes!
That's a fun way to put it! We definitely see it in many places. But yeah, we are very proud to say that all DHL business units, from Express to Supply Chain, are and have been active contributors to the process in every generation of The Logistics Trend Radar. It's one of the many reasons why when people in supply chains in and out of DHL look at the Trend Radar, none of the trends seem totally off or very misplaced – there's lots of exciting new tech, but we stay grounded by being close to operations.
Alright, last two questions. What's the coolest customer impact story related to the Logistics Trend Radar?
Oh man, it's hard to choose! Just the other day, we were asked by a corporate strategy department of one of DHL's top customers if they could use the tool in their annual strategy development process.
I'm sure you naturally said yes!
For sure – we absolutely encourage innovation as much as possible in logistics, and the Trend Radar is a fantastic tool for that! But I think the coolest impact we've seen on our customers was during the Covid-19 pandemic. In the previous editions, we had included several trends relating to sensor technology and communication of that data, and this drove further research in those areas, including identifying multiple viable tech providers. So, when the pandemic hit and our customers asked us for visibility solutions to see where their vaccine shipments are and how they are being handled, we were able to quickly offer them smart solutions that provide regulation-compliant temperature monitoring and control, mapping, security, and tracking. It's pretty cool to see how the Trend Radar contributes to DHL's purpose: "connecting people, improving lives."
Okay, and finally – I know you're just about to release Trend Radar 6.0, but what can we expect for Trend Radar 7.0 in two years' time?
Well, we can't ruin the surprise! Trend Radar 6.0 is just coming out, but we are already looking ahead to the next edition. The challenge we face when publishing every new version is asking ourselves: how do we make something that is already great, even better? In terms of trends, I think that in two years, we are going to see the maturing of some trends into non-trends, meaning that they're going to be normalized in how we operate or do business as an industry. For the trends that are further out on the Trend Radar, some are probably going to experience increased acceleration, maybe some unexpected acceleration, like in the story about Quantum Computing. Personally, I'm very curious to see how Quantum Computing will play out. Otherwise, for trends beyond the 5-year mark, I have my eyes on Outdoor Autonomous Vehicles, Drones, Decarbonization, and Metaverses, but I know my colleagues are excited about potential upswings in some other trends, too.
Well, we can't wait to see the exciting changes in both the upcoming Trend Radar and the one after that! Thank you for your time, Jordan.
Thank you, and happy innovating!